BLUETTI AC200MAX + Solar Panels | Solar Generator Kit
A$4,236.00
A$5,396.00
- A$1,160.00
🔥Black Friday Sale Ends in
---
2,200W AC Pure Sine Wave Inverter (4,800W Surge).
AC200MAX 2,048Wh Capacity.
LiFePO₄ Battery with 3,500+ Life Cycles to 80%
Expandable Up To 6,144Wh with 2×B230, or 8,192Wh with 2×B300
7 Ways to Recharge (AC/Solar/Car/Generator/Lead Battery/Dual AC/AC+Solar)
900W Max. Solar Input
1400W Max. Fast Dual Charging (Solar + AC Adapter)
Smart Control & Monitor in BLUETTI App
---
---
---
30 Days Price Match Guarantee
BLUETTI guarantees that we will refund you the difference if you find a lower price from us within 30 days of your purchase.
Price Difference Refund Requirements:
1. Valid purchase history within 30 days.
2. Email us a screenshot of the lower price.
3. Promotion period only.
---
2+2-year Hassle Free
Warranty
SMALL CHANGE, HUGE LEAP
The first modular, expandable Bluetti power station. Packed with an astonishing 2048Wh ultra-durable LFP cells and a 2,200W full power pure sine wave inverter, the AC200MAX can be your mobile recharge center off-the-grid or on the way.

Less To Spend, More To Love
Struggling between power and flexibility? We got you covered! With two expansion ports, The AC200MAX welcomes up to two BLUETTI B230's(2048Wh each) or B300(3072Wh each) battery modules, connecting of which can boost the total capacity to a staggering 8192Wh!

Get Charged In Anyway You Prefer
The AC200MAX allows up to 900W of solar input and 500W via the adapter, you can even charge it up via your wall outlet and solar panels simultaneously, boost a stunning 1400W total charging rate which can top up your power beast in less than two hours! Further more, every BLUETTI battery module has their own input port for AC adapters, you'll get another 500W of input capability with every module added (Up to two for the AC200MAX).

Incomparable Outlet Versatility
With AC200MAX's 15 outlets, you get to run all your needs simultaneously without breaking a sweat.

Give Your Devices More Runtime
B230 has over 3,500 life cycles with top-notch LFP cells, offering up to 80% of the original capacity. Moreover, it is supplementary compatible with BLUETTI AC200MAX for a whopping capacity.


Specifications
BATTERY INFO
---
LiFePO₄ (Lithium Iron Phosphate)
---
3,500+ Cycles to 80% Original Capacity
---
Recharge to 80% Every 3-6 Months
---
MPPT Controller, BMS, etc
---
OUTPUT
---
4 x 220V-240V,2200W In Total
---
2 x 5V/3A USB-A
2 x 18W USB-A
---
1 x 12V/30A (RV Outlet)
1 x 12V/10A (Car Outlet)
2 x 12V/10A DC 5521 (5.5mm Outlet)
*All Regulated.
---
INPUT
---
900W Max,OCV 10-145VDC, 15A
---
12/24V from Cigarette Lighter Port
---
1,400W, with AC+Solar Input
---
RECHARGE TIMES
---
≈3~3.5 Hours (With prime sunshine, ideal orientation and low temperature)
---
12V/24V Car Outlet (100W/200W):
---
AC Adapter + Solar (1400W):
≈2.0~2.5 Hours (With prime sunshine, ideal orientation and low temperature)
---
Dual AC Adapters (1000W):
≈3~3.5 Hours (Extra adapter is REQUIRED)
---
GENERAL
---
Expandable w/ Up to 2 x B230 or 2 x B300
---
16.5 x 11 x 15.2 in ( 42 x 28 x 38.65cm)
---
Operating Usage Temperature:
---
UL2743, UKCA, TELEC, RCM, FCC ID, CE, PSE, NTC
---
AC200Max
Sale and delivery was 5 star
Unit was exactly as promoted and surpassed my expectations
Easy to use and with the the combo of an PV350 was easily handling all my power needs
Fantastic addition to cover our power needs at home and off grid
BLUETTI AC200MAX + Solar Panels | Solar Generator Kit
Ideal as a temporary power source in a blackout
Very well constructed; purchased after a lot of research on portable power units, mostly from hyped up American preppers with baseball caps and wrap around sunglasses. The big appeal of the AC200Max was the Fe based batteries incredibly long rechargeability (3000+ recharges I think) before it drops back to 80% of its capacity. Also, being able to both charge it and draw on it simultaneously is really useful. We intend using it in a house, in case of blackouts and tested it with at least two full clothes wash cycles + drying with power to spare and solar charging means free power! The solar panels are heavier than I imagined and a little cumbersome to set up on your own but they do the job well. Long cable extensions would have been welcome, for the money. The touch screen on the unit is impossible to read in strong light, but overall, the unit is what I hoped it would be. The AC adapter is pretty klunky and noisy but we wont be using that much. Service was good, the unit arrived quickly and was well packed. Get a wheeled dolly to put it on, it makes a big difference! ($20 from Aldi!) An extra battery would be a luxury want, but theyre very expensive and probably not required for our needs. The app is not particularly useful if you're out of bluetooth range and you can't remotely switch the unit on, no big deal. Wifi might have been smarter. None of these power units will give you everything you want but this one comes close.
One Happy Little Vegemite
I wanted one for ages, however 2 things put me off buying it straight away.First the price and secondly the fact I could only buy it online and I heard Bluetti's service was not the best.
Well ,my personal experience of their service was....the unit was delivered within a few days and exceeded all my expectations.
I chose to buy Bluetti 2000max with 350w Solar Panels.
If I was to find a negative I would say that the panels are large and not that easy to set up and also difficult to move around. It's easier with two people setting them up, however they do the job really well.
Yes it was pricey, however it was well worth it.
How-to
A useful guide to making the most of it all.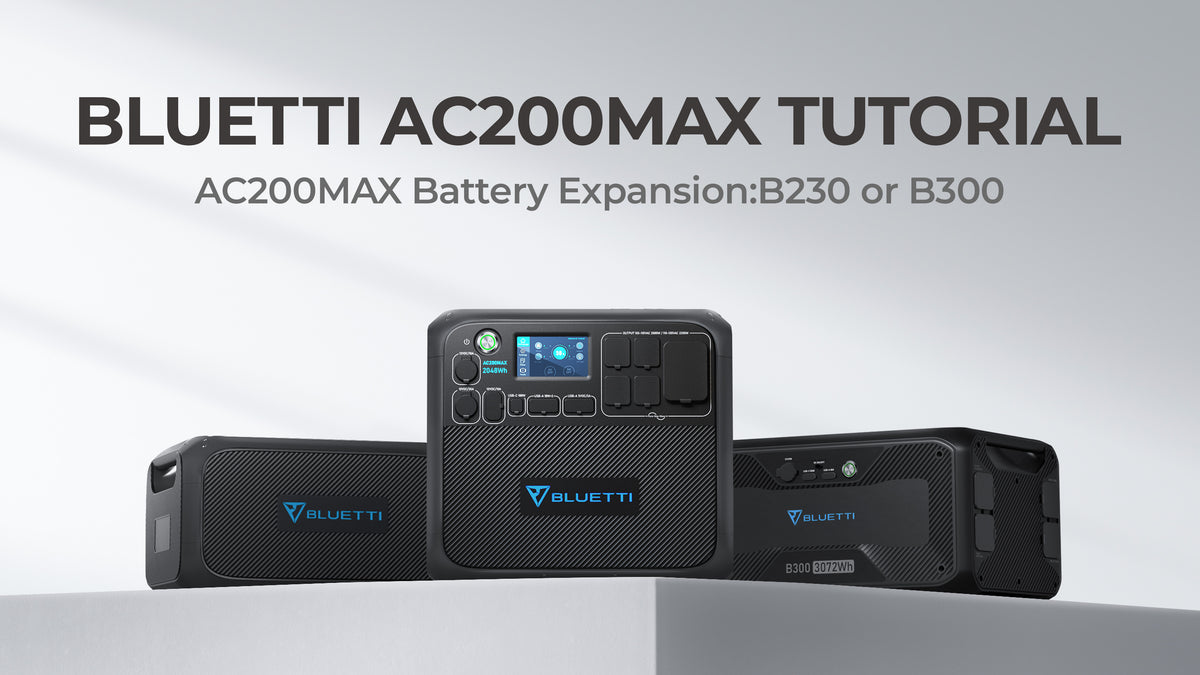 How to connect AC200MAX with either B230 or B300 Battery Modules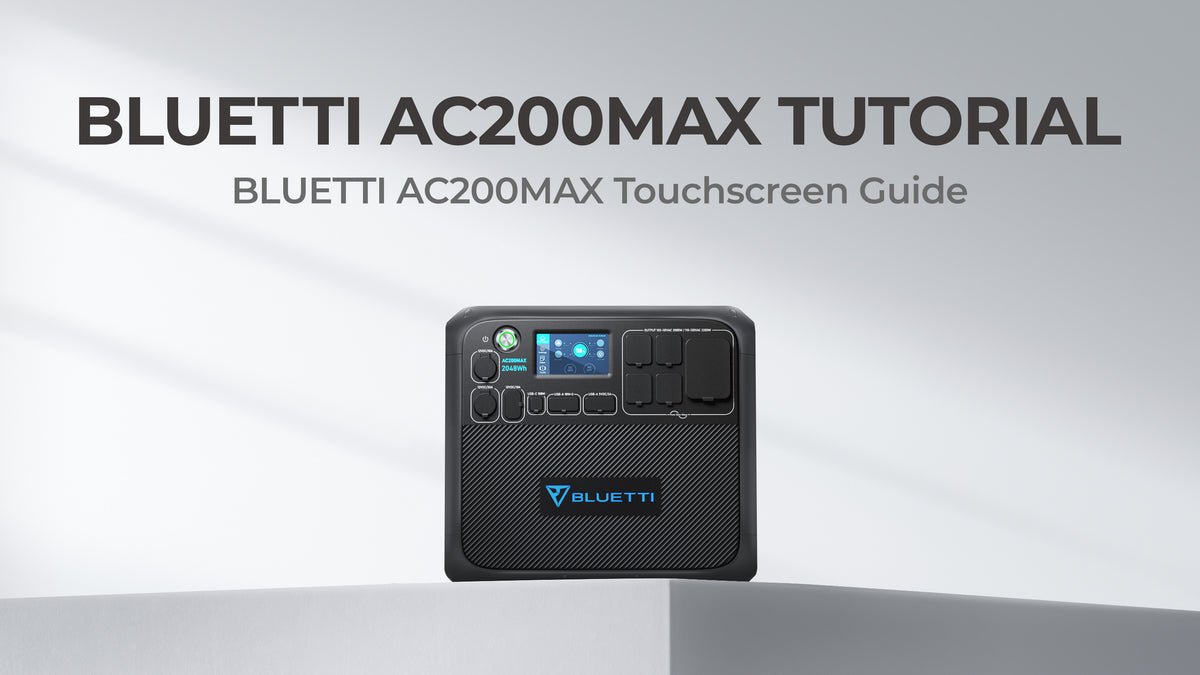 How to use the Touchscreen of AC200MAX?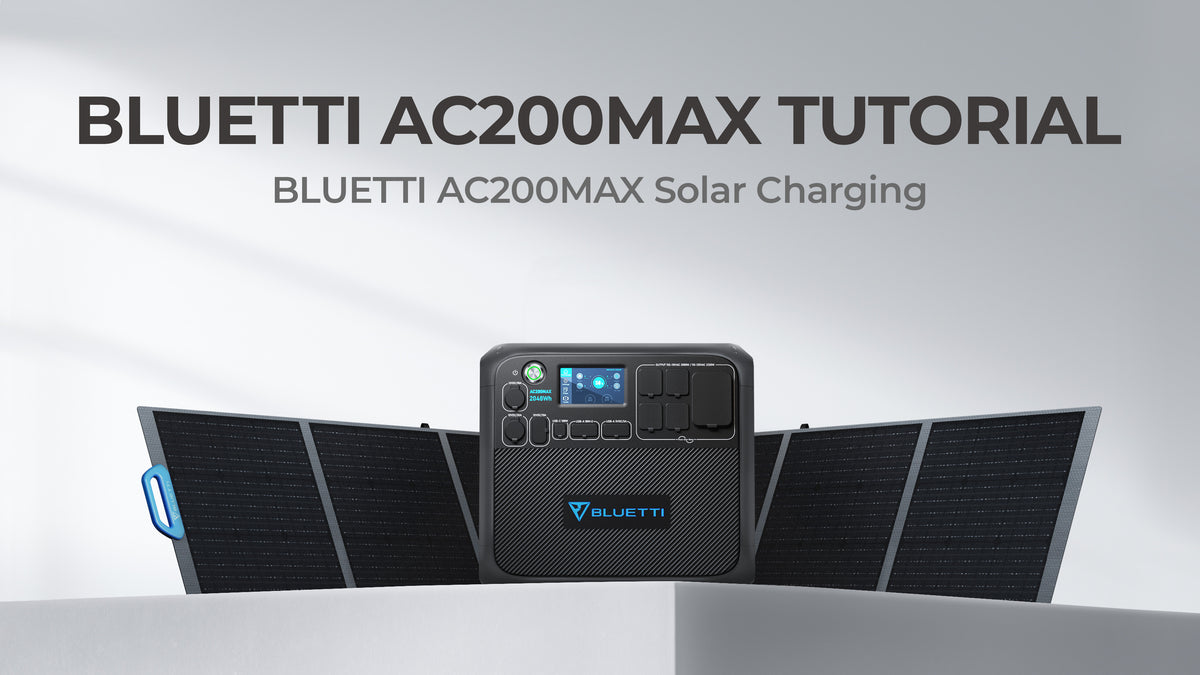 How to recharge AC200MAX via solar panels