BLUETTI AC200P Portable Power Station | 2,000W 2,000Wh
A$1,999.00
A$2,799.00
- A$800.00
🔥Black Friday Sale Ends in
---
2000W AC Pure Sine Wave Inverter (4,800W Surge)
2,000Wh Capacity
LiFePO₄ Battery with 3,500+ Life Cycles to 80%
13 Outputs For Multiple Devices
7 Ways to Recharge (AC/Solar/Car/Generator/Lead battery/Dual AC/AC+Solar)
700W Max. Solar Input
1200W Max. Fast Dual Charging (Solar + AC Adapter Simultaneously)
Eco-friendly/Gas free/Quiet/Cost-effective
---
---
30 Days Price Match Guarantee
BLUETTI guarantees that we will refund you the difference if you find a lower price from us within 30 days of your purchase.
Price Difference Refund Requirements:
1. Valid purchase history within 30 days.
2. Email us a screenshot of the lower price.
3. Promotion period only.
---
2+2-year Hassle Free
Warranty
---
A$1,199.00
A$4,199.00
A$5,999.00
A$6,299.00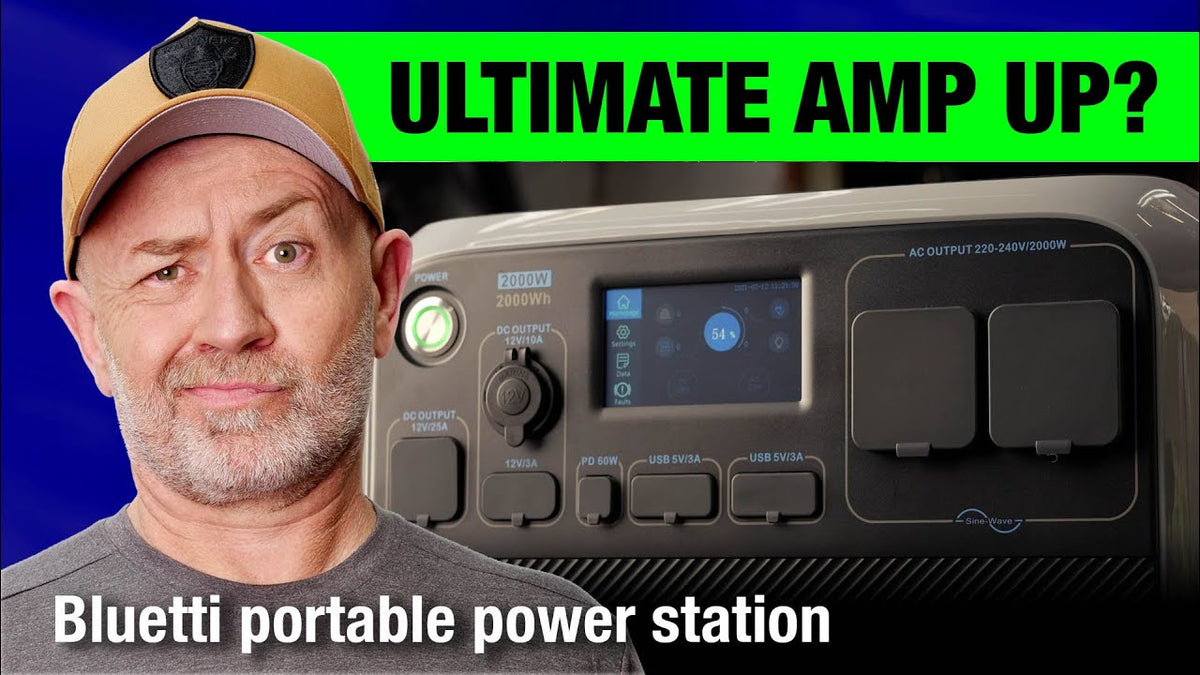 Stay Charged, Anywhere, Anytime 2000W/2000Wh Power Station
No matter where you are - at home during an unexpected outage, in your backyard, on a worksite, in the woods, or on a road trip, you can always count on BLUETTI AC200P as your reliable off-grid power source.

Coffee Maker(1150W)
1.5 Hrs

Electric Grill(1100W)
1.5 Hrs
Air Conditioner (5,000 Btu)
1-4 Hrs
Camera (Full-frame)
71k RAW Photos
Car Fridge (70W)
20 Hrs
CPAP (40W)
30-40 Hrs

Elevate Your Energy Game
The AC200P offers the convenience of expanding its capacity by connecting B230 or B300 expansion batteries. Plug in two B300 units, and you can get a massive 8,144Wh, enough to run your devices even during an extended outage.
Note: D050S DC charging enhancer and P090D-XT90 cable required.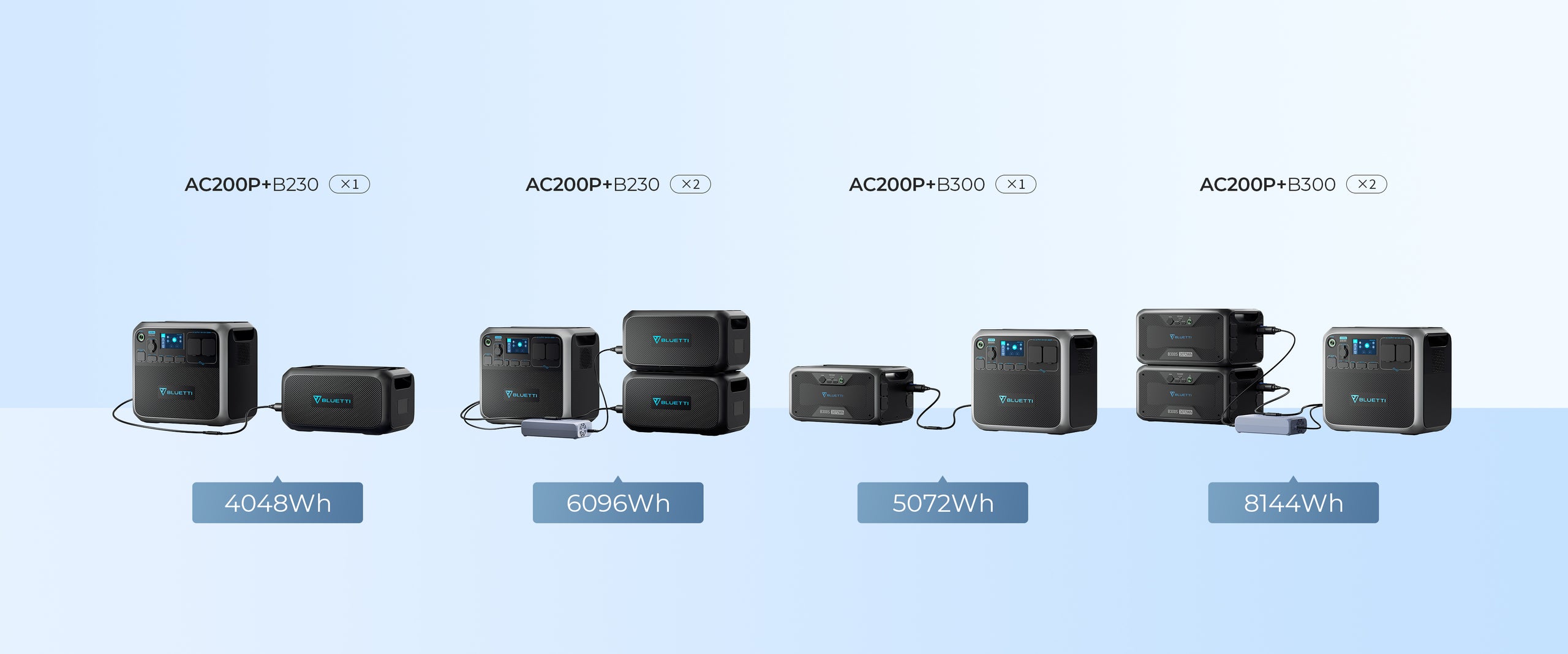 Power All Your Needs Simultaneously
Besides the AC outlets, USB-A, USB-C, Cigarette lighter port and 12V/3A DC Port, this solar generator also features 12V/25A RV port and 15W wireless chargers to provide you more charging options.

Ultra-durable & Safe Power For Everyday Needs
The Lithium Iron Phosphate(LiFePO₄) battery offers 3,500+ life cycles and lasts for almost 10 years (one cycle per day), along with the advanced Battery Management System (BMS) integrated in AC200P monitors everything happening in this device, protecting your device from every potential risk in the day-to-day operations.

Solar Solution for Home Applications
BLUETTI AC200P can power most of your appliances like blenders, ice coolers, radios, projectors, and more. In the event of unexpected blackout, AC200P is a perfect home backup system especially in some areas with unstable voltage.
*Single BLUETTI PV120 or PV200 will not charge AC200P.

Power Your Adventure
Power up your devices on-the-go for hours. A reliable power source for camping, van life, and more.

Enjoy Nature With Peace of Mind
Going outdoors with no worry about running out of power.

Specifications
BATTERY INFO
---
LiFePO₄ (Lithium Iron Phosphate)
---
3,500+ Cycles to 80% Original Capacity
---
MPPT Charge Controller, Low Battery Protection
---
OUTPUT
---
2 x 220V-240V Receptacle, 2,000W In Total
---
1 x 12V/25A (RV Outlet)
1 x 12V/10A (Car Outlet)
2 x 12V/3A (5.5mm Outlet)
*All Regulated.
---
INPUT
---
700W Max. OCV 35-150V, 12A.
---
12/24V from Cigarette Lighter Port
---
1200W, with AC and Solar Input Simultaneously
---
RECHARGE TIMES
---
≈3.5~4 Hours (With prime sunshine, ideal orientation and low temperature)
---
12V/24V Car Outlet (100W/200W):
---
≈2.3~2.8 Hours (With prime sunshine, ideal orientation and low temperature)
---
≈3~3.5 Hours (With Optional Dual Adapters)
---
≈3~3.5 Hours (With Optional Dual Adapters)
---
GENERAL
---
No. Enter for expandable BLUETTI power stations
---
Simultaneous Recharge & Discharge:
---
16.5 x 11 x 15.2 in (42 x 28 x 38.65cm)
---
UL2743, UKCA, TELEC, RCM, FCC ID, CE, PSE, NTC, NOM
---
Power to the People
Wow, what a fantastic power station. Plenty of power inputs, plenty of power outputs and plenty of power for you to use. Top piece of kit for indoors, outdoors and near all of your doors.
Performs exactly as described! Great!
I have had my AC200P for a few weeks now including one trip. Very very easy to use and setup and works exactly as you would expect. I was planning on adding solar panels, but with a 1 hour drive adding 30 ish % of the battery charge I am not sure if it is worth it!!
BLUETTI AC200P Portable Power Station | 2,000W 2,000Wh
Ac200p
After weeks and weeks of researching different brands of lithium power stations I found BLUETTIs product and warranty to be the stand out product so I bit the bullet and purchased the ac200p and it doesn't disappoint it brings the luxury to a camping setup and paired with the pv350 solar panels you have an unlimited off grid power source to run all your appliances and the fact it's portable make it even better!!! Cannot recommend enough
BLUETTI AC200P Portable Power Station | 2,000W 2,000Wh
How-To Videos
A useful guide to making the most of it all.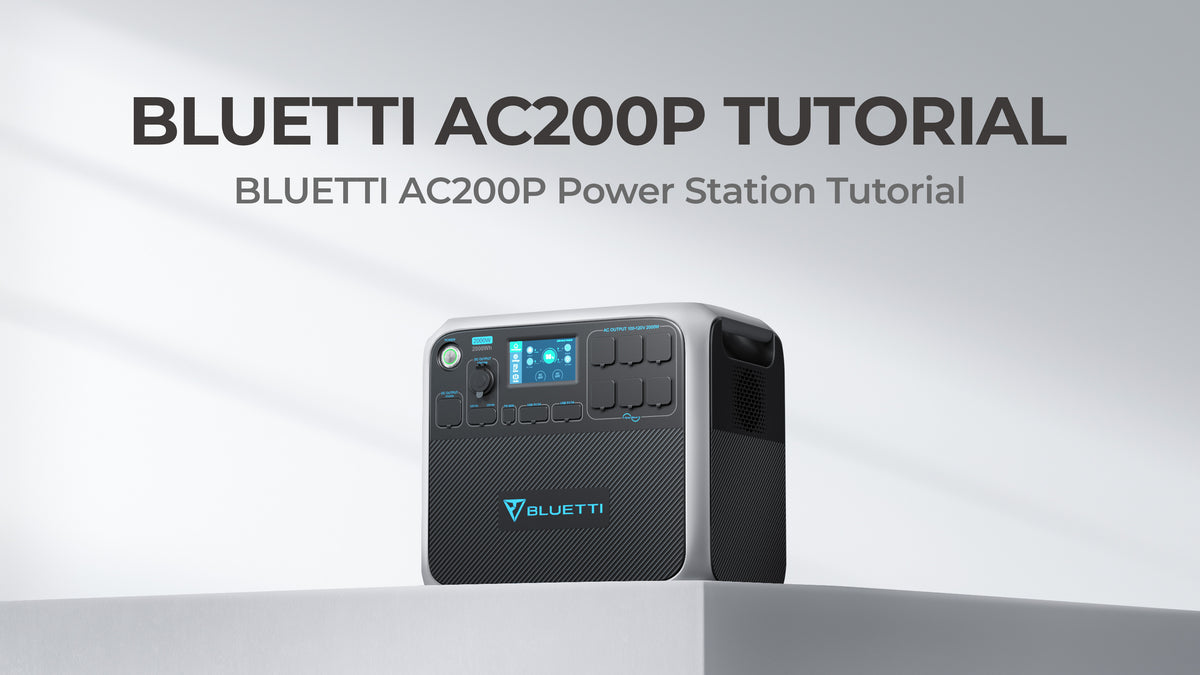 Product Application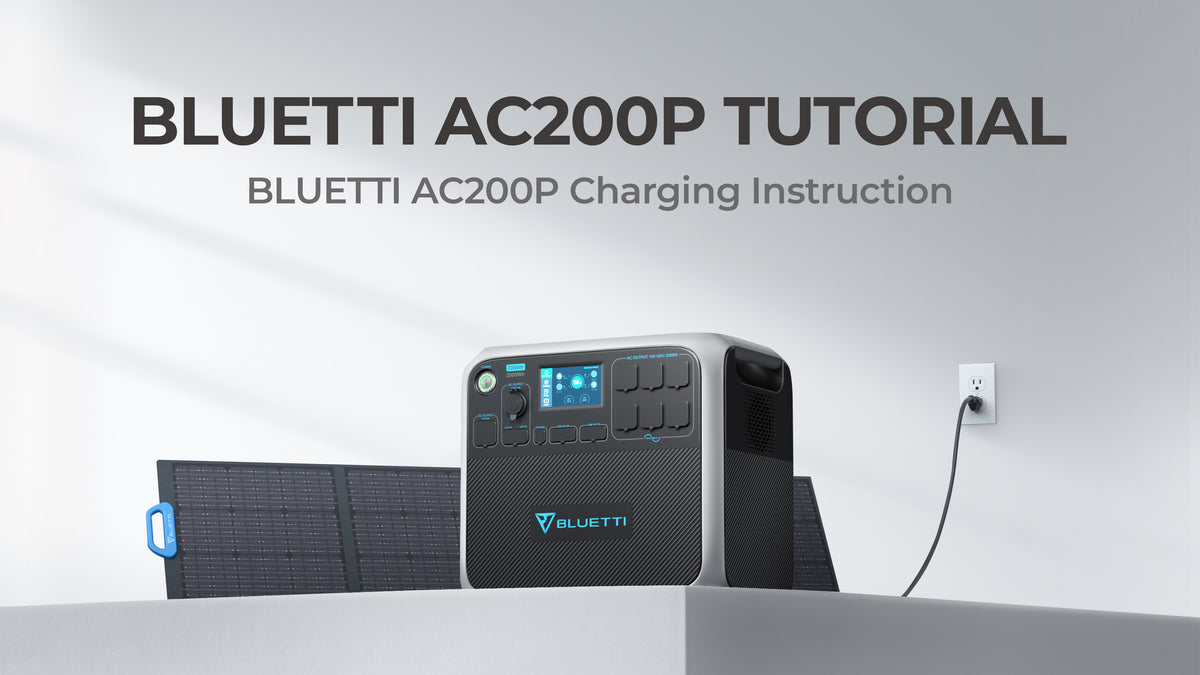 How to charge the AC200P?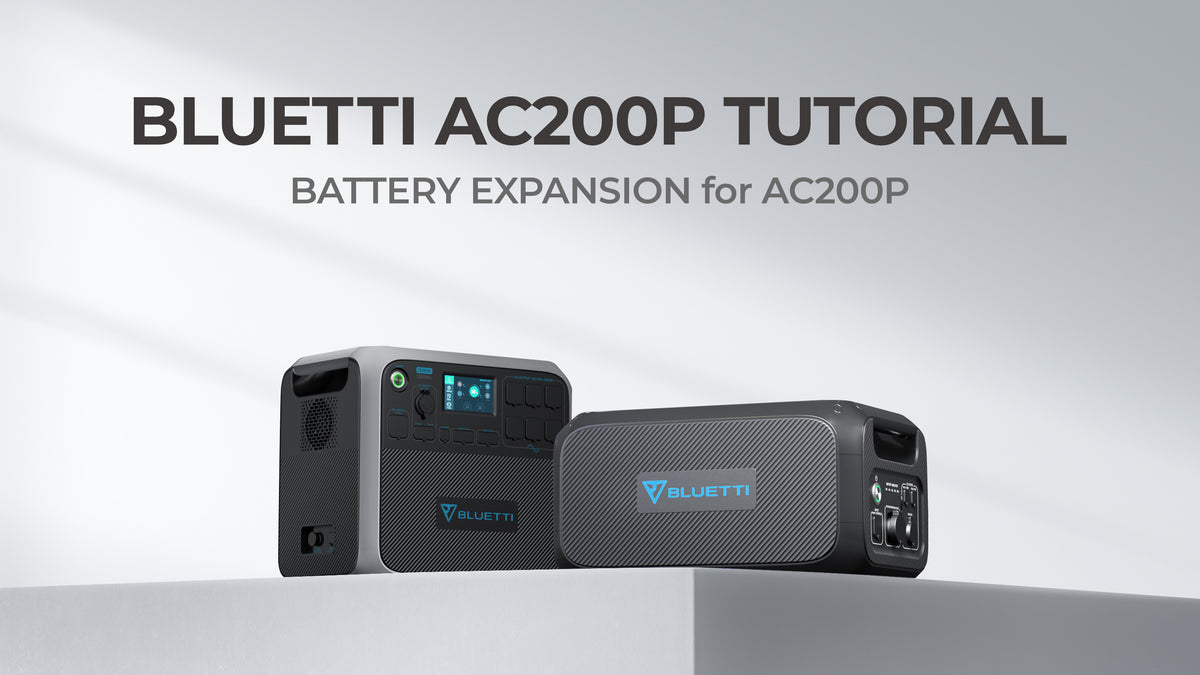 How to connect B230 or B300 with AC200/P&EB200/P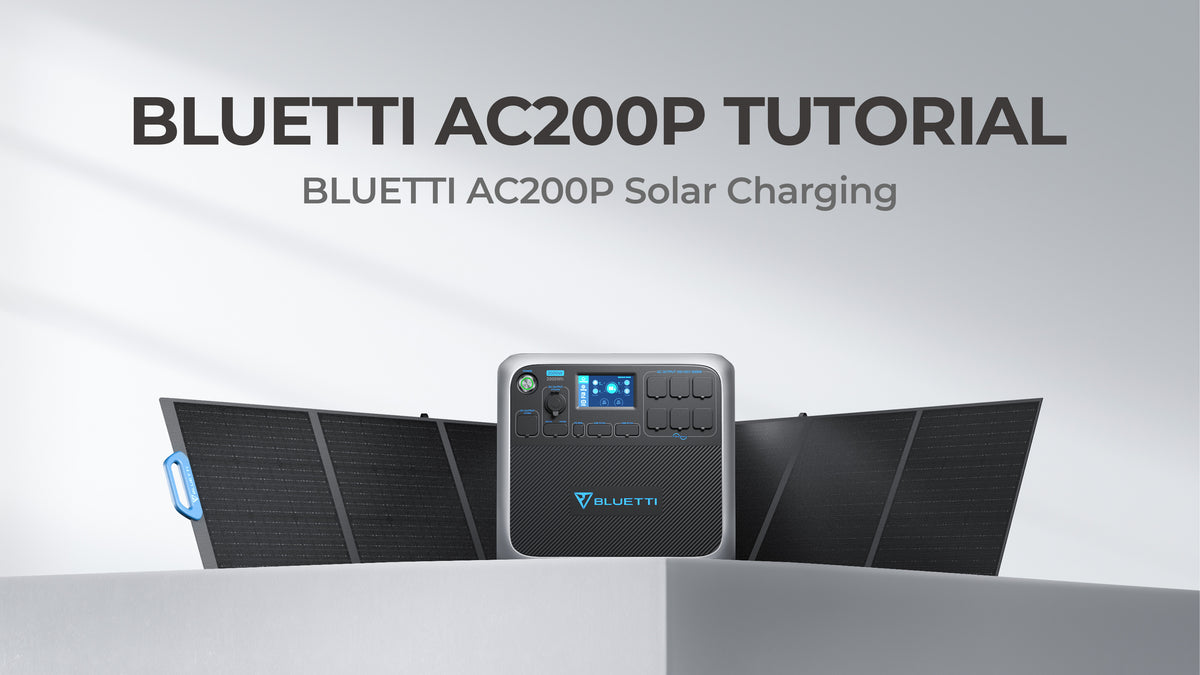 How to charge AC200P through solar panels?